Overview
The Regional Transportation Plan, a long-range comprehensive plan, is the primary means by which federal and state funds are allocated to the Cape's transportation needs. The Cape Cod Metropolitan Planning Organization (MPO), a collaboration of local, regional, state, and federal transportation officials, votes on this federally required document, which is compiled and maintained by the staff of the Cape Cod Commission. It is updated every four years.
Development of Cape Cod 2024 Regional Transportation Plan
The Cape Cod 2024 Regional Transportation Plan (RTP) update is underway. The 2024 RTP will be a 25-year vision for the future of transportation on Cape Cod through 2050.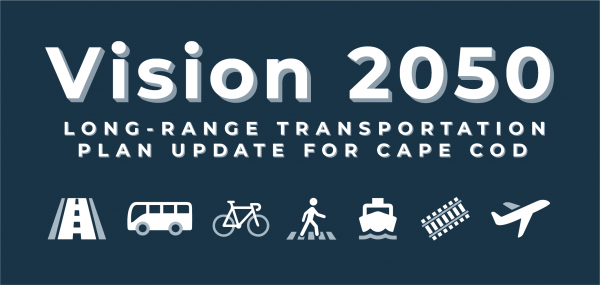 The development of the 2024 Regional Transportation Plan commenced in Fall 2022 with existing conditions review and early outreach. The Cape Cod MPO is expected to release the Draft Cape Cod 2024 Regional Transportation Plan in July 2023 following review and consideration of public comments.
Public input is critical in the development of this document and the Cape Cod MPO encourages broad-based participation in the process. A series of public outreach meetings are planned during the public comment period for the Draft Plan.
Regional Transportation Plan Upcoming meetings:
Monday, July 10, 2023 | 5:30 PM
Bourne Veteran's Memorial Community Center | Room 2
239 Main St, Buzzards Bay
Tuesday, July 11, 2023 | 11:00 AM
Hyannis Transportation Center
215 Iyannough Road, Hyannis
Tuesday, July 11, 2023 | 6:00 PM VIRTUAL
Meeting Link: www.capecodcommission.org/outreach/join, Passcode: join


Take the Survey
The Cape Cod 2024 Regional Transportation Plan Survey is now open. Please click the button below to take the survey and share your thoughts.
After you complete the survey, Click Here to enter our mapping tool to identify specific locations of concern on Cape Cod.
Cape Cod 2020 Regional Transportation Plan - Currently Active
The Cape Cod 2020 Regional Transportation Plan (RTP) is a community-driven, performance-based plan that considers the unique challenges and opportunities of the region and establishes spending priorities to allocate available surface transportation funding towards transportation infrastructure projects for Cape Cod through 2040.
The 2020 RTP was adopted on July 15, 2019 by the Cape Cod Metropolitan Planning Organization after a robust public process including of two dozen public meeting and outreach events and over 500 public comments.
The plan includes over $300 million in projects recommended in the draft MassDOT Cape Cod Canal Transportation Study such as the reconfiguration of the Bourne Rotary. The plan also includes over $820 million for roadways, bridges, sidewalks, and path in the region and over $280 million in transit funding. These projects represents a significant investment in the region in the regions infrastructure over the next 20 years.
Click Below to Watch a Recording of the 2024 Regional Transportation Plan Listening Session
Project Resources
Jul 22, 2019
RTP Appendix A - Historical Context
RTP Appendix A - Historical Context RTP Appendix A - Historical Context 2020 REGIONAL TRANSPORTATION PLAN Technical Appendix A: Historical Context JULY 15, 2019 INTENTIONAL BLANK…
Jul 23, 2019
RTP Appendix N - Greenhouse Gas Analysis
Safety Technical Appendix Safety Technical Appendix 2020 REGIONAL TRANSPORTATION PLAN Technical Appendix N: Greenhouse Gas Analysis/Air Quality Conformity Determination JULY 15,