Temporary Tents and Covered Areas for Outdoor Uses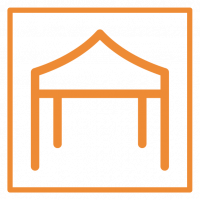 To help businesses create spaces with adequate social distancing, towns could allow tents to serve as temporary outdoor retail sales areas, restaurant seating areas, or curbside order and pickup areas. Doing so may require temporary exemption from maximum lot coverage requirements, setback requirements, parking requirements, amendment of restaurant seating capacity licenses, and/or expediting permits for outdoor eating and retail areas (see other strategies on using outdoor areas). Tents could be provided on existing paved or patio surfaces or on grass/landscaped areas of the subject property. It may also be possible to allow tents on adjacent parcels of land or on town-owned sidewalks and rights-of-way through a cooperative agreement with an adjacent property owner. Public safety officials, department of public works, and building department staff could sign-off on the plans through administrative review if the town's bylaws allow. Properties within local historic districts may require a separate permit from an historic district review board for these temporary structures. The historic board may consider delegating review of such temporary structures to town staff if their bylaw allows. For longer-term changes (beyond temporary COVID-19 measures) approval by relevant boards may be necessary.
Considerations
Impact on parking and circulation if tent is placed in a parking area

; ensure

circulation remains safe

Preference for locating in patio or landscaped areas away from vehicle traffic

Size requirement or headroom requirement for tents

Fire retardant tent materials

Require tents have open sides when in use by customers

Length of time for temporary permits (90 days – 6 months)
Sample administrative review checklist for temporary tents and covered areas permit
Completed application

with a sketch showing the location of the proposed tent on a site plan, size and height of tent, proposed tent material, and a description of how the tent will be used to support business

; s

ketch

is

detailed enough to show the tent will not interfere with safe site circulation

Tent material meets fire safety standards

Tent complies with any height requirements and size requirements established by the town

If the tent is located within a parking area or immediately adjacent to a roadway, a physical barrier or separation, such as bollards or planter boxes, is used to protect customers from vehicle traffic on-site and adjacent to the site

Tent does not obstruct safe parking lot circulation

Tent does not block handicapped parking spaces or limit handicap accessibility

Health Agent review and approval for food preparation or sales
Examples
Brookhaven, Georgia

created a temporary Outdoor Restaurant Operations Permit allowing 10' x 10' tents for temporary outdoor restaurant seating through the Mayor's executive order. Restaurants must

submit an application

via

email for the free 90-day permit.

Mount Pleasant, South Carolina

passed an emergency ordinance to temporarily suspend town regulations related to prior approval of outdoor dining and retail services in order to allow display, storage, or sale of merchandise as well as the sale, service and consumption of food or drinks, including alcoholic beverages, in outdoor areas on private property. Business owners are required to submit their new operations plan through a new

online mapping registration system

. Town staff will review all submitted details to ensure compliance with other ordinances such as accessibility and then publish the results to a public facing map

.

Connecticut Governor

Ned Lamont

issued an

executive order

allowing municipalities to expedite changes to their zoning rules or other ordinances to expand outdoor dining, retail sales in outdoor areas, and creates an expedited approval process for

restaurants and other establishments that serve food to get fast-tracked permission to create or expand outdoor dining areas. The state also released a

guidance document

for restaurants as they reopen.