Outdoor Space for Retail Use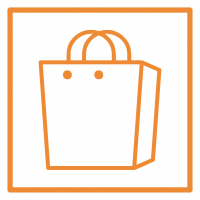 As retail businesses look to operate while following social distancing and other health guidelines, they may look to expand to outdoor areas. Potential outdoor areas may include existing paved patio surfaces, landscaped areas, lawns, parking lots, or, in some places, portions of the street or on-street parking areas which are closed and available for such uses. Use of these spaces may require temporary tents or covering of areas; more information on that is available in the Temporary Tents section. Public safety officials, department of public works, and building department staff could sign-off on the plans through administrative review if the town's bylaws allow. Town staff could also propose specific public areas for this use or coordinate with local institutions that are willing to provide space; see the Repurposing Municipal and Institutional Spaces section for more information. For longer-term changes (beyond temporary COVID-19 measures) approval by relevant boards may be necessary.
Considerations
Availability of outdoor space adjacent to the business, either on the subject lot, in an adjacent parking area, or in another approved location, including sidewalks and parking lanes
Impact on parking and circulation if displays or merchandise are placed in a parking area; ensure circulation remains safe
Safe separation of display and shopping areas from vehicle traffic
Ensuring display and shopping areas do not impede safe pedestrian access
Preference for locating in patio or landscaped areas away from vehicle traffic
Length of time for temporary permits (90 days – 6 months)
Sample administrative review checklist for temporary outdoor space for retail use permit
Completed application with a sketch showing the location of the proposed display and shopping area on a site plan, including details on any proposed temporary structures such as tents, display racks, or other furniture, and a description of how the furniture will be used to support business; sketch is detailed enough to show the display or shopping area will not interfere with safe site circulation
A physical barrier or separation, such as bollards or planter boxes, protects customers from vehicle traffic both on-site and adjacent to the site
Shopping area does not obstruct safe parking lot circulation
Shopping area does not block handicapped parking spaces or limit handicap accessibility
Shopping area does not obstruct safe pedestrian circulation
Display areas are laid out according to public health guidelines
Health Agent review and approval
Examples
The Town of Barnstable is allowing the expansion of retail sales (and outside dining) onto both Town property and private property with streamlined review procedures.
Provincetown allows the outdoor display of merchandise subject to Building Department approval in limited areas in town.