Repurposing Municipal and Institutional Spaces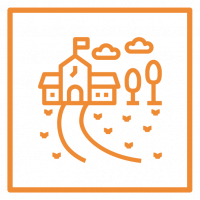 As towns re-open during and post COVID-19, public and institutional spaces could be repurposed to provide services and support local businesses. This could involve using town-owned land (including school property, especially large and underutilized parking areas) or partnering with private organizations that may be willing to share their campuses/institutions. With a vast reduction in parking needs, municipal lots could serve as open temperature screening sites, for example, or provide spaces for public meetings, food trucks, or farmers markets/outdoor bazaars for local vendors, perhaps on a rotating basis.
Considerations
Fairness in determining which businesses

are allowed to

use the space, perhaps considering prioritizing local businesses that

lack

sufficient space to accommodate outdoor use on their property

Ensuring any new use does not intrude upon

an

outdoor

area

that provides

space

for

recreational

enjoyment or stress relief
Examples
The Town of Needham has created outdoor dining spaces by placing picnic tables in several public locations for open air consumption of take-out food (and alcohol) from local restaurants.
The Town of Falmouth coordinated with the Library Trustees to place picnic tables on the green in front of the library in downtown to allow more space for people to eat takeout food from nearby restaurants.