Cape Cod Joint Transportation Committee Honors Longtime Bicycle Representative
On Friday, October 11, 2019, the Cape Cod Joint Transportation Committee (CCJTC) honored longtime Bicycle Representative Dr. Edward Gross for 13 years of service. An integral part of the CCJTC, Dr. Gross worked to secure accommodations for bicyclists and pedestrians in regional transportation projects, ensuring all modes of transportation safe access to our roadways.
As a medical student in the 1970s, Dr. Gross bicycled year-round from his apartment in Belmont to school in Boston's South End. His observations on the road led him to organize the Boston Area Bicycle Coalition, now known as MassBike. Dr. Gross' advocacy paved the way for safer bicycle accommodations in the greater Boston area. He worked to raise awareness of bicycles as transportation and their role in reducing traffic and congestion.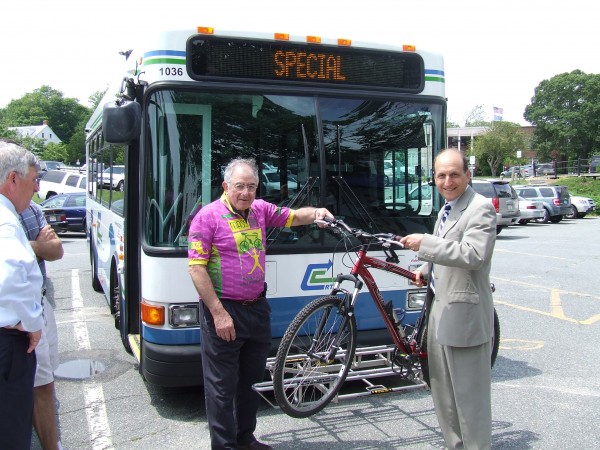 Dr. Ed Gross with then-Senator Dan Wolf showcasing bicycle accessibility on Cape Cod Regional Transit Authority buses.
After moving to Cape Cod full-time, Dr. Gross helped to form the local chapter of MassBike and joined the Falmouth Bikeways Committee. He was appointed Bicycle Representative to the Cape Cod Joint Transportation Committee in 2006. Gross says he saw the CCJTC as an important link to major regional transportation projects. He often rode his bicycle to CCJTC meetings.
Dr. Gross' work as bicycle representative to the CCJTC offered an opportunity to help others understand the right of cyclists to use our roadway systems. In reviewing projects, Gross wanted to ensure that cyclists and pedestrians were fairly represented and that projects were inclusive. The simple presence of a bicycle advocate on the committee raised awareness of bicyclists as legitimate users of the roadway.
"I've learned a great deal," said Dr. Gross during a recent JTC meeting. "And, I think, changed a few things but in a very special way. My goal was to be an ambassador for the cycling community."
Dr. Gross was instrumental in the expansion of the Shining Sea Bikeway in Falmouth, helped to organize a Cape-wide meeting of the cycling community, has worked with Falmouth officials to help standardize reporting in bicycle crashes, and has had a voice in planning hundreds of transportation projects on Cape Cod.
The Cape Cod Commission is now seeking a new bicycle representative to the Cape Cod Joint Transportation Committee. The CCJTC serves as an advisory committee to the Cape Cod Metropolitan Planning Organization, a regional body established by federal law to oversee regional transportation planning and recommend the distribution of transportation funds locally. The Bicycle Representative position is open to a year-round Barnstable County resident who has a regional interest to improve the multi-modal transportation network on Cape Cod. Ideal candidates are passionate about bicycling, involved in a local bicycle committee, or have a related professional background.
LINK: Additional information and how to apply for CCJTC Bicycle Representative
Related Posts