Cape Cod Housing Institute: Form-Based Code workshop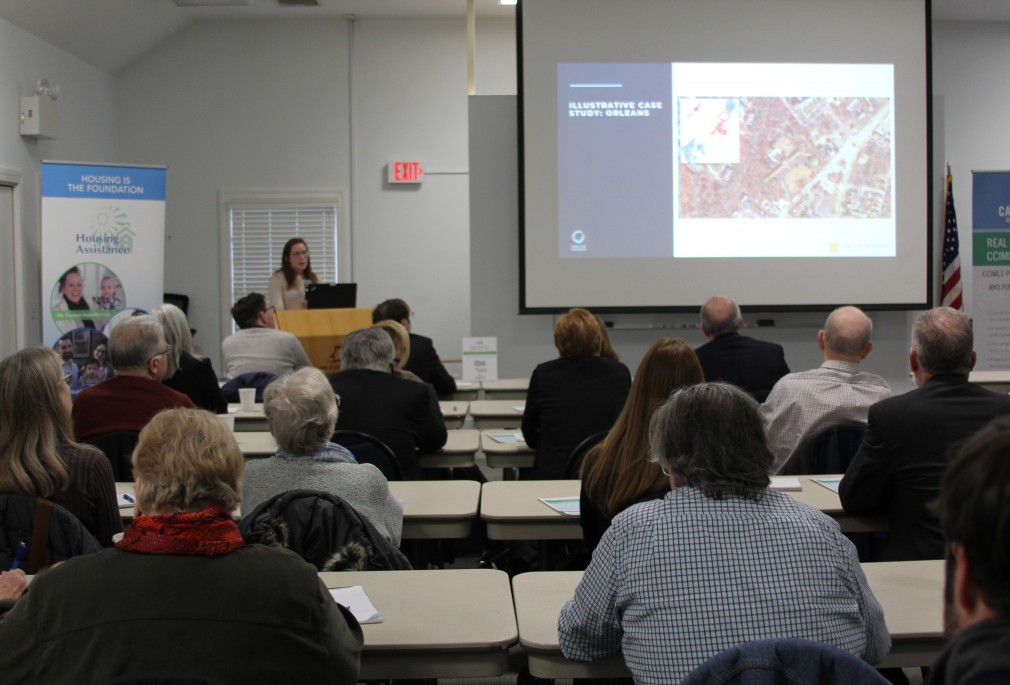 Nearly 50 municipal officials and staff from 12 Cape Cod towns came together on February 10 for a workshop on using form-based code. Form-based code is a tool to enable communities to create zoning that encourages the development of the types of housing that could help ease the region's housing crisis.
As part of the Community Resiliency by Design effort, the Cape Cod Commission partnered with Union Studio, a Providence, Rhode Island-based community design and architecture firm, to develop context-appropriate housing prototypes at densities between a traditional single-family home and a large format apartment building. As part of this effort, the Commission and Union Studio developed a form-based code framework recognizing form-based code as one tool communities may consider to support development of context-appropriate missing middle housing.
Commission Executive Director Kristy Senatori and Chief Planner Chloe Schaefer kicked off the workshop with presentations on the housing challenge facing the region and some of the work the Commission has done to address it, including the Community Resiliency by Design project, its recent outcomes, and steps being taken by participating communities.
Next, Joel VanderWeele of Union Studio provided a deep dive into the definition of form-based code and why they appeal to some communities. He explained the general principles of successful form-based codes, noting they include a robust community engagement and participation process to articulate the vision for an area. While traditional zoning is organized around separation of uses, form-based codes emphasize form and the quality of the built environment over function.
George Proakis, AICP, Form-Based Codes Institute Board Member and Director of the Office of Strategic Planning and Community Development for the City of Somerville illustrated how conventional zoning often does not produce development envisioned by a community and how form-based codes are an alternative zoning tool that can foster development that does achieve the desired results in a community. He rounded out the discussion with a candid look at implementing form-based codes regionally and nationally with examples at a variety of scales, from a small, core area of a Main Street to an entire town.
The session is part of Housing Assistance Corporation's Housing Institute, an educational series to help local municipal officials to promote affordable and attainable housing in their towns. This was the first in a series of in-depth trainings and peer groups for these municipal officials.
LINK: Learn more about the Community Resiliency by Design project