Across the Commonwealth of Massachusetts, untreated stormwater runoff is the single largest source of water body impairment. Although much of the emphasis on controlling nitrogen loading to Cape Cod's coastal embayments focuses on wastewater, stormwater runoff contributes approximately 8% of the total nitrogen load Cape wide, and in certain watersheds the stormwater contribution is significantly above average. In order to maintain and improve the health of Cape Cod's water resources and the communities that depend on them, it is important to manage stormwater quantity (storing or infiltrating runoff to prevent ponding or flooding) and quality (treating the runoff to remove suspended solids, nutrients, and toxic substances).
Throughout Cape Cod varying levels of stormwater infrastructure exist; from gray infrastructure (systems of curbs, gutters, and conveyances to divert the flow of stormwater from buildings, streets, and parking areas) to green infrastructure or Low Impact Development (LID) structures that have been designed to mimic natural hydrologic processes and improve the quality of stormwater runoff while still allowing for aquifer recharge.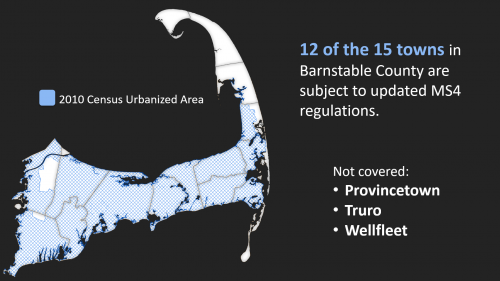 The 2016 Massachusetts Small Municipal Separate Sewer System (MS4) Permit has introduced new requirements for towns to comply with, and the Cape Cod Area-wide Water Quality Management Plan (the 208 Plan) identified the new stormwater permit as an opportunity to reduce the amount of nitrogen that stormwater contributes to coastal embayments. The Cape Cod Commission is working to assist towns in complying with the MS4 permit, incorporating stormwater systems designed to handle increased runoff in a distributed and decentralized manner into community planning efforts, and using improved stormwater management as a tool to reduce nitrogen loading to coastal resources.
The Cape Cod Commission facilitates regional collaboration, resource sharing, and cost savings through regular meetings of the Cape Cod Stormwater Managers Group, funding and technical staff resources through the District Local Technical Assistance program, and projects of regional benefit in partnership with AmeriCorps Cape Cod.
Commission staff developed a series of MS4 cost estimators for each of the towns subject to the most recent permit. The following links will automatically download an Excel workbook that towns can use for planning and budgeting for their stormwater efforts: