Overview
Many Cape Cod towns have Demolition Delay bylaws that seek to prevent unnecessary demolition of important historic buildings by requiring a waiting period before demolition can take place. The Cape Cod Commission provides technical assistance to towns during this delay period, helping to find alternatives to demolition and to get the word out about these threatened buildings.
Cape Cod Demolition Delay Network
The Demolition Delay Network page is designed to advertise historic buildings subject to demolition delay in the hopes of identifying alternatives to the loss of the building.
How to Post Listings
Local Historical Commissions and property owners can post information about buildings subject to demolition by sending the following information to the Cape Cod Commission:
Location (street, town) of building proposed for demolition
Date demolition delay was imposed
Date demolition delay will expire
Brief description of building (date of construction, style, square footage, history)
Contact person and telephone number (Historical Commission or Owner)
Photograph of the building, if possible (in print or as a digital file)
To submit information to or to ask questions about the Demolition Delay Network, contact: Sarah Korjeff, Planner/Historic Preservation Specialist
Demolition Delay Success Stories
Active Historical Commissions who work with property owners and other town boards have had the greatest success in finding alternatives to demolition. Note the success stories described below: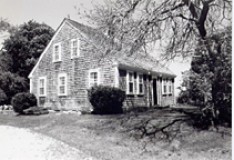 19 Wharf Road, Chatham - Owners agreed to save the original house, removing later ells and moving the original building elsewhere on the property to serve as a guest house. A new main house will be constructed. The Chatham Historical Commission offered to argue for an increase in the lot coverage allowance for this property to accommodate both the historic building and a new structure, but the lot size was sufficient for both buildings without zoning board of appeals review.
Caleb Nickerson House, Chatham - Owners of this historic home agreed to allow someone to move the house to another site. After the demolition delay expired, the builder agreed to delay the demolition longer so that a new site could be found. The Nickerson Family Foundation paid to move the building by barge to a new location, where it has been rehabbed and is open to the public as a museum.
459 Sea View Avenue, Osterville - A prospective buyer of this property wanted to demolish the historic home and build a new house on the site. After the Barnstable Historical Commission imposed a 6-month demolition delay, the buyer walked away. A new buyer was found within a month, and they chose to preserve and remodel the historic home.
Route 6, Eastham - Owners of an historic midwife's home on Route 6 agreed to make the building available for relocation after the Eastham Historical Commission imposed a demolition delay. A new owner was found, and the building was moved less than a mile away and renovated.
Demolition Delay Bylaws on Cape Cod
Barnstable –

18-month demolition delay (adopted January 2013)

Bourne –

12-month demolition delay (adopted in 2006)

Brewster – no demolition delay bylaw

Chatham –

18-month demolition delay (adopted in 2007)

Dennis –

12-month demolition delay (adopted in 2007)

Eastham –

12 month

demolition delay (adopted May 2008)

Falmouth –

12-month demolition delay (adopted November 2018)

Harwich –

12-month demolition delay (adopted in spring 2011)

Mashpee – no demolition delay bylaw

Orleans –

12-month demolition delay (adopted in 2005)

Provincetown

– 6-month demolition delay (adopted in 1998)

Sandwich –

no demolition del

ay (proposed 18-month

delay failed at Spring 2007 Town Meeting)

Truro –

12-month demolition delay (adopted in 2007)

Wellfleet –

18 month

demolition delay (adopted April 2017)

Yarmouth –

6-month demolition delay (adopted April 2011)
Resources
2015 Demolition Delay Workshop (Video): The Cape Cod Commission sponsored a workshop on "Administering a Demolition Delay Bylaw" on January 30th, 2015. Chris Skelly from the Massachusetts Historical Commission presented the workshop, which was designed for communities already administering a demolition delay bylaw. Participants discussed the strengths and challenges of demolition delay bylaws, how best to effectively utilize the delay period, and the necessary sections of a well-crafted bylaw. They also covered best practices and success stories from around the state. Fifty-two participants attended the event. A video recording is available on YouTube.
Massachusetts Model Demolition Delay Bylaw: The Massachusetts Historical Commission has developed a Model Demolition Delay Bylaw. It is the basis for the demolition delay bylaw used by several Cape towns and is used across Massachusetts.