Working to Expand Cape Cod's Electric Vehicle Charging Station Network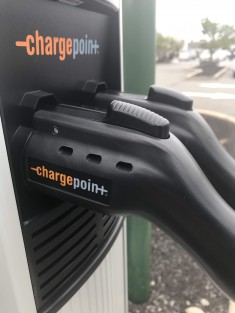 The fuel we use to get to and from work every day contributes to climate change. Reducing greenhouse gas emissions is critical to slowing the pace of rapid global warming. One way to reduce emissions from transportation is through the use of electric vehicles.
The transportation sector accounts for the largest portion of greenhouse gas emissions in Massachusetts and more and more people are turning to electric vehicles to combat climate change.
The Cape Cod 2020 Regional Transportation Plan includes several goals and objectives aimed at reducing greenhouse gases generated by all transportation modes. One strategy to meet these goals is to support the expansion of Cape Cod's electric vehicle charging station network.
Following actions recommended in the 2018 Regional Policy Plan (RPP), the Commission is in the process of conducting an analysis of potential electric vehicle charging station locations to support the expansion of the charging station network and the adoption of electric vehicles by residents of and visitors to the Cape. Work on this effort includes collecting information on the location of known charging stations, identifying criteria for siting future stations, and developing a method to determine where future charging stations would be most beneficial.
To date, Commission staff have compiled information on the location and type of existing charging stations in the County, researched the approaches other regions have used to anticipate future needs, and incorporated Cape-specific data and information to identify potential areas for future charging stations.
Work to finalize the analysis is underway and the project is anticipated to be completed during the summer of 2020.
Combined with providing for more walkable centers of activity and increased public transportation opportunities, supporting electric vehicle infrastructure will help reduce greenhouse gas emissions from the transportation sector.