Southeast New England Network makes strides in first year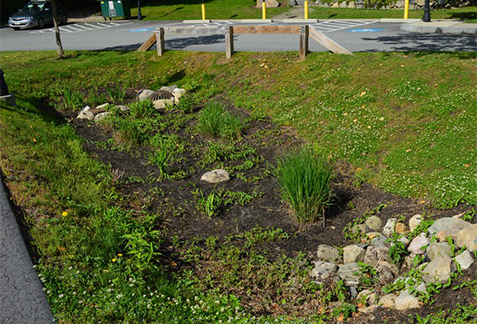 Regional network provides stormwater planning and technical assistance
Stormwater mitigation planning can prove challenging for many local towns. It's expensive, and competes with high priority issues, such as wastewater and nitrogen management planning. Without funding or staff dedicated exclusively to stormwater management, many towns simply don't have the time or resources to proactively incorporate stormwater planning into roadway construction, zoning, and other large scale projects.
Formed in Fall 2019, the Southeast New England Network (SNEP Network) is a grant-funded collaboration of thirteen organizations: regional experts in stormwater management, financing, water quality and habitat restoration, green infrastructure, low impact development, and environmental restoration. Together, these organizations offer a full complement of technical and financial services to municipalities, tribes, and organizations in the region in order to help build capacity at the local level and expedite stormwater planning efforts.
Streamlining stormwater consultant selection for local towns
In its first year, the SNEP Network is establishing a pre-approved pool of consultants that share the principles the network has set forth for stormwater planning best practices. It is anticipated that access to a vetted list of approved consultants will save towns time and money when planning stormwater projects.
Technical assistance underway
In Spring 2020, the SNEP network issued a Call for Participants. A number of communities received technical assistance awards including the Town of Bourne and the Pleasant Bay Alliance. The Town of Bourne's project kicked off in mid-July, and a fall start is anticipated for the Pleasant Bay Alliance. Both projects will continue through summer 2021.
The Pleasant Bay Alliance will receive assistance with a review of land use regulations and stormwater bylaws in the four member towns of Orleans, Chatham, Harwich, and Brewster. As a Network partner, Cape Cod Commission staff is conducting these bylaw reviews. Other work includes an outline of sustainable and scalable financing options for stormwater management, and facilitation of discussions with the Environmental Protection Agency (EPA) and Mass Department of Environmental Protection (DEP) to quantify nitrogen removal from stormwater activities.
The Town of Bourne will receive assistance with the development of a coastal resilience action strategy and development of sustainable and scalable financing options.
Ordinance and Bylaw Review
A review of local ordinances and bylaws pertaining to stormwater began as part of the Cape Cod Commission's Year One work with the SNEP Network. Cape Cod Commission staff is investigating the adequacies of local ordinances and discovering how they work to promote good stormwater management, with an overall goal of offering model language that allows towns to efficiently and effectively update local regulations.
Much of the Commission's work this year focused on designing a methodology for bylaw review. Staff reviewed bylaws in some Pleasant Bay Alliance towns with additional reviews throughout Barnstable County to be completed in year two. Staff will produce an analysis and report with recommendations for how Cape Cod Communities can use local regulations to incentivize smart community-wide stormwater management.
Stormwater Resource Inventory
Commission staff and other SNEP Network partners have worked to create an inventory of existing stormwater tools and resources to make available through the SNEP Network website. The inventory has been gathered, and now several of these tools and resources will be tested and reviewed. Case studies will be presented with an overall goal of providing critical reviews of existing resources and highlighting the best and most effective tools available
Regional Runoff and Pollutant Load Mapping Tool
Development of a GIS-based tool to estimate the amount of runoff and the mass of different pollutants that are generated by current land use and land use characteristics in Barnstable County is underway. When complete, towns will be able to use this tool to identify and prioritize areas for stormwater management. The tool will help identify areas that are generating significant runoff, and may present a stormwater management issue like flooding, or may be acting as sources of nitrogen or phosphorous to nearby bodies of water .
Data acquisition and analysis is underway and staff anticipate completing the tool in late 2021.
For towns wishing to participate in the program, future calls for participants are expected. Help can also be obtained through the SNEP Network Online Assistance Portal. Assistance is available to groups that would like help with the application process or in preparing projects for application.
Related Posts