Siting electric vehicle charging stations on Cape Cod 
Reducing the region's greenhouse gas emissions to slow the effects of climate change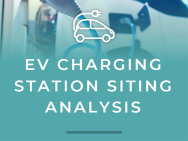 Climate change is a key challenge facing Cape Cod. It contributes to sea level rise, increased frequency and intensity of storms, and longer periods of warmer weather. Greenhouse gases (GHG) contribute to climate change by trapping heat in the atmosphere and causing global temperatures to rise. Massachusetts has a goal to reduce GHG emissions from all sectors by 2050.
The transportation sector accounts for the largest portion of greenhouse gas emissions in Massachusetts. One way to reduce GHG emissions and slow the effects of climate change is to support the increased adoption of electric vehicles (EV) and the infrastructure necessary for their use, such as publicly available EV charging stations. Because their fuel source is electricity instead of fossil-fuel-based gasoline, EVs do not directly produce tailpipe emissions of GHGs.
In 2019, updates to the Cape Cod Regional Policy Plan (RPP), Comprehensive Economic Development Strategy (CEDS), and Regional Transportation Plan (RTP) were adopted. All three of these regional plans recognize the importance of addressing climate change in the region and expanding the infrastructure needed for an EV charging network to support future EV adoption and growth. The RPP includes a planning action for the Commission to conduct a GIS screening analysis of potential electric vehicle charging station locations. Commission staff have completed this analysis.
This analysis includes information on the current state of electric vehicle charging stations on the Cape, such as the types of locations that currently host charging stations, an interactive map representing the distribution of the network across Cape Cod, and identification of areas suitable for future infrastructure.
Commission staff identified Activity Centers (as defined in the 2018 RPP), community activity sites, areas of business density, and large parking lots as areas that can support future EV charging stations. Presented in an interactive mapping tool, this information can be used by municipalities and other property owners interested in incorporating EV charging infrastructure on their properties.
Resources for residential and non-residential property owners are provided and include information on parking space design, parking management, types of fee structures, and policy considerations. Also included are links to information on the types of EVs available today and state rebate and incentive programs.
For more information see: https://storymaps.arcgis.com/stories/ed59c9714aff4b1298d31d77fdd0d915