Shared use path study confirms importance of rail trails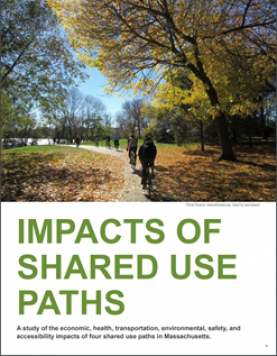 Each year Cape residents and visitors enjoy the recreational opportunities associated with our region's rail trails. Business owners anecdotally understand the importance of the rail trails to support the local economy, but a recent study conducted by MassTrails now confirms how important our rail trails are to the region.
Conducted by MassTrails, the Shared Use Path Impacts Study takes a detailed look at the economic, health, transportation, environmental, safety, accessibility and equity impacts that shared use paths have on communities across the Commonwealth. The Report, finalized in May 2021, features a case study on the Cape Cod Rail Trail. Click here for a link to the report.

The key findings from the study are as follows:
Economic: Paths improved the local economy by generating between $378,000 and $9.2 million per path for businesses near the trails during the four-month study period alone.

Health: Paths increased the level of physical activity for those who live nearby, saving a combined $2.8 million on healthcare expenditures across the four paths in 2019.

Transportation: During the study period, the shared use paths encouraged over 90,000 active commute trips and reduced motor vehicle travel by over 700,000 miles.

Environmental: The reduction in motor vehicle trips led to $2.2 million in savings from reductions in the social costs of greenhouse gas and other emissions during the four-month study period.

Accessibility and Equity: Paths connect people with destinations and access to opportunities, and broaden who has mobility without having to rely on a car for every trip.