Quantifying Bicycle Use Across Cape Cod 
Residents and visitors alike love to bicycle on Cape Cod's roads and rail trails. The Cape Cod Commission and local bicycle advocacy groups are gathering data using count stations and by conducting manual counts across the region. The Cape Cod Commission will outline data in the 2021 Traffic Counting Report, to be issued in early 2022.
Shining Sea Bikeway Counts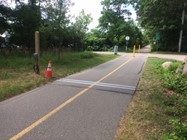 In early July 2020, the Falmouth Pedestrian and Bicycle Committee (FPBC), working with the Falmouth Department of Public Works (DPW), installed a mobile multi-counter along the Shining Sea Bikeway, thanks to a donation from the Friends of Falmouth Bikeways.
To obtain counts the equipment utilizes pneumatic tubes stretched across the bikeway pavement plus infrared sensors. This allows count differentiation of pedestrians, cyclists and their direction. Based on the quality of information gathered from August 2020 to August 2021 it was decided to obtain a second counter. This equipment will also be purchased by the FFBW and installed by DPW. These installations will be at varying locations in an attempt to determine origin and destination of Bikeway users for planning purposes.

Cape Cod Rail Trail Counts
A permanent count station was installed on the Cape Cod Rail Trail in Brewster in June 2019 as part of the MassTrails Bicycle/Pedestrian Counts Pilot Program. Cape Cod Commission staff have been reviewing the count data and performing manual calibration counts. The device records pedestrians and bicyclists travelling past the counter in both directions. Over 200,000 trail users have been recorded passing the counter in a year. The data showed increased activity during the pandemic, particularly outside of the summer months.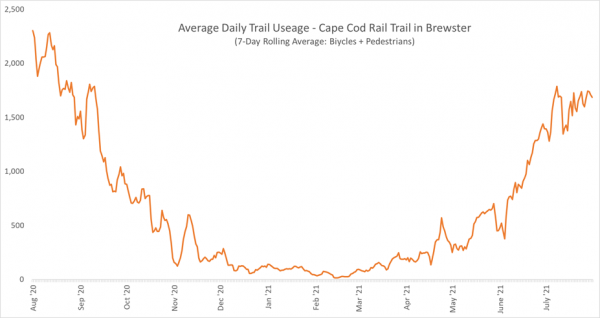 Manual Counts
Not all bike and pedestrian data is collected by permanent counting equipment, but rather by manually counting locations across Cape Cod. Cape Cod Commission staff has been counting users across the region, both on bike trails and in village centers, for several years. In 2021, Commission staff counted the following locations: 
Shining Sea Bikeway south of County Road - Falmouth 

Old Colony Rail trail south of Chatham Municipal Airport - Chatham 

Province Lands Bike Trail - Provincetown 

Brackett Road east of Route 6 – Eastham 

Route 6 at Governor Prence Road – Eastham 

Route 6 at Stotts Crossing – Truro 

Route 6 at Castle Road – Truro 
In addition to the Cape Cod Commission counts, each summer the Friends of the Cape Cod Rail Trail collect user counts along the Cape Cod Rail Trail and in other key locations.