Prioritizing Transportation Projects for Cape Cod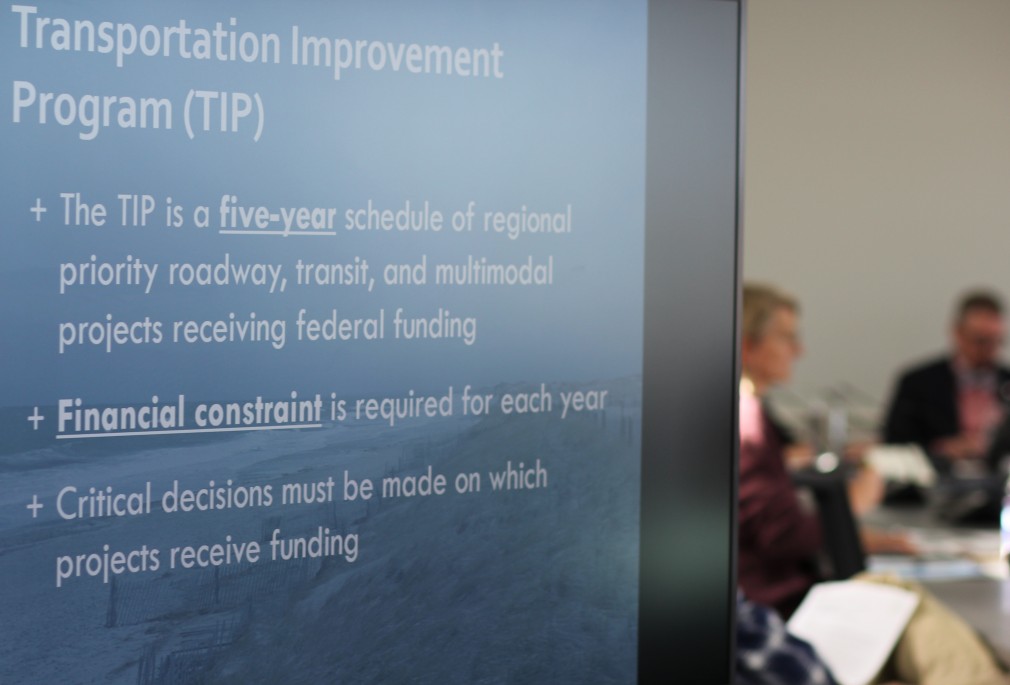 The yearly planning process for transportation projects across the region is underway.
In February, the Cape Cod Joint Transportation Committee (CCJTC) and the Metropolitan Planning Organization (MPO) began to meet to develop the Cape Cod Transportation Improvement Program (TIP) and the Unified Planning Work Program (UPWP).
The TIP is a five-year list of transportation system projects to be implemented with federal and state funds available for Cape Cod. Funding comes from a combination of state and federal sources and totals more than $150 million over the five-year plan. Discussions at MPO meetings help to establish a preference for which projects are funded through the TIP.
Typical projects include reconstruction of existing intersections or roadways, construction of new shared-use paths, and purchase of new buses to support regional bus service. Projects are designed to address safety and congestion concerns for all transportation modes. Recent projects include the reconstruction of the intersection of Route 28 and Bearses Way in Barnstable, the Cape Cod Rail Trail extension project in Dennis and Yarmouth, and purchase of new buses by the Cape Cod Regional Transit Authority.
The UPWP is a list of planning activities anticipated to be performed by Cape Cod Commission transportation staff over the next year. Recent UPWP projects include the Top Crash Location Report and Crash Dashboard and the Mashpee Rotary Study.
The process began in February. Project selection takes place in March. The JTC met on March 13 and recommended a slate of projects to move forward to the MPO. The MPO will meet virtually on March 23 to vote on these recommendations.
On March 13, 2020, the Joint Transportation Committee recommended the following projects for funding under the TIP:
Bourne – Route 6 Scenic Highway Median Installation (2024)

Bourne – Rail Trail Phase 1 (2024)
Sandwich – Shared Use Path Construction on Service Road (Rt 130 to Chase Rd) (2022)

Mashpee – Route 151 Corridor Improvements (2021-2023)

Barnstable – Shared Use Path Construction on

Bearses

Way (2021)

Barnstable – Route 6 Resurfacing and related work (2025)

Yarmouth – Route 28 at North Main St. and Old Main St. Intersection Improvements (2022)
Yarmouth – Route 28 Resurfacing and Related Work (2023)

Yarmouth-Barnstable - Cape Cod Rail Trail Extension (2023)

Dennis/Harwich – Route 28 Reconstruction from Upper County Rd to Herring River (2025)

Harwich – Bridge Replacement, Azalea Dr. Over Herring River (2022)

Harwich – Harwich Elementary School Safe Route to Schools Improvements (2024)
Chatham – Route 28 at Main Street, Depot Road, Queen Anne Rd and Crowell Rd Intersection Improvements (2024)

Orleans – Route 28 at Rt 39 and

Quanset

Road Roundabout (2021)

Wellfleet – Route 6 at Main Street Intersection Improvements (2023)

Wellfleet – Pavement Preservation and Related Work, Route 6 (2023)

Provincetown – Shank Painter Road Improvements Phase 1 (2025)

Various transit projects to allow the Cape Cod Regional Transit Authority to operate their year-round and seasonal fixed-route services, operate their demand response services, and maintain the vehicles and other infrastructure.
Also during the March 13 meeting, the JTC recommended the following projects for inclusion in the UPWP: A Cape Cod traffic signal inventory, a Route 28 East Hyannis corridor study, a Rail Trail crossing inventory, and a project to research and examine best management practices for managing retreat from vulnerable sections of coastline.
In late April, the draft TIP and UPWP will be released for public comment, with final review and approval expected in May.