Outer Cape Bicycle and Pedestrian Master Plan Recommendations are Coming to Life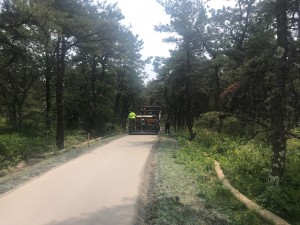 Bicycling is one of the most attractive ways to see the sights on Cape Cod; most notably in the Outer Cape and within the Cape Cod National Seashore.
In 2017, Cape Cod Commission staff, in collaboration with the Cape Cod National Seashore (CCNS) and National Park Service (NPS), completed the Outer Cape Bicycle and Pedestrian Master Plan. This plan creates a framework for an interconnected bicycle and pedestrian network linking the towns of Wellfleet, Truro, and Provincetown with the Cape Cod Rail Trail (CCRT), Cape Cod National Seashore, and other destinations within the three communities.
The plan provides a recommended primary route for extending the CCRT from its current terminus in South Wellfleet to Truro and Provincetown, as well as a list of secondary routes within each community that connect to popular destinations.
The Head of the Meadow Bicycle Trail in Truro is the first construction project that has resulted from the Master Plan.
Completed in August 2019, the project included rehabilitating the existing 1.9 mile Head of the Meadow Bicycle Trail. A new base course was laid, the trail was widened and resurfaced, and an 0.8-mile section was added, extending the trail from Head of the Meadow Road to Coast Guard Road.
Instead of a traditional asphalt surface, the trail has an alternative "un-paved" surface treatment, following recommendations put forth in the Master Plan. The alternative surface treatment, Organic Lock, creates a stable, erosion-resistant surface that is water permeable, strong, and stable, and ideal for all types of bicycles.
For cyclist enthusiasts looking for a challenge, the trail includes an extended hill climb in addition to traditional flatter sections. Plan a trip to Truro to check out the Cape's newest bicycle trail!