New study shows economic impact of Cape Cod's harbors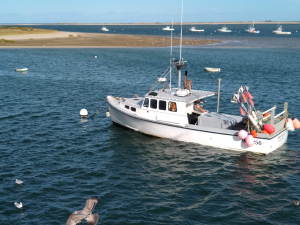 Cape Cod's harbors have long been centers of commerce for the region, serving as hubs for fishermen, ferryboats, researchers, and recreational boaters. Harbors support numerous businesses that operate in and around them, laying the groundwork for the significant economic drivers that make up the region's Blue Economy.
In Spring 2020, the Cape Cod Commission and the Urban Harbors Institute set out to better understand the economic importance of maintaining the functionality of Cape Cod's harbors. A survey was conducted in March and April, focusing on six harbors in four towns: Provincetown Harbor, Sesuit Harbor in Dennis, Stage Harbor and Aunt Lydia's Cove (Fish Pier) in Chatham, and Great Harbor and Inner Harbor in Falmouth. The survey was directed towards owners of businesses located along the coast or otherwise reliant on access to the harbors.
These survey respondents directly employed 2,328 people across 58 industries, leading to a total employment of 4,446 people due to indirect and induced impacts of business and household spending. The direct compensation of employees in the top ten industries identified in this study, using survey responses alone, was nearly $257 million. That number would greatly increase should the compensation of employees in every establishment within the study areas be counted.
Results of the study indicate that maintaining and/or enhancing harbor functionality should be a priority for coastal communities in order to secure and improve the economic benefits, including employment, of these industries.
The towns that will be most successful in maintaining long-term functionality will also integrate planning for sea level rise, coastal flooding, and increasingly intense storms as climate change continues to impact the region's fragile coastline. The impacts of climate change must be integrated into capital planning efforts to preserve these facilities into the future.
The report concludes with a set of recommendations for towns, including maintaining functionality to maintain economic benefits of employment; integrating sea level rise impacts into planning efforts to minimize disruption to those benefits into the future; improving region-wide data collection on climate impacts and capital expenditures; and continuing to research other harbors to better articulate regional benefits.
Improved data on the ongoing and future impacts of sea level rise, flooding, erosion, extreme weather events, and other coastal hazards will inform hazard mitigation planning efforts, and can better position communities to address changing infrastructure needs.
The harbors of Cape Cod are historically and culturally significant, and provide key infrastructure for the Blue Economy. While this study provides a basic understanding of the economic benefits of several Cape Cod harbors, studies in other harbors are needed to fully illustrate the regional economic impact of commercially-important harbors.
The final report and survey results are available at: https://www.capecodcommission.org/our-work/harbor-study/