Secretary William Galvin visits Cape Cod to assist in preparing for the 2020 US Census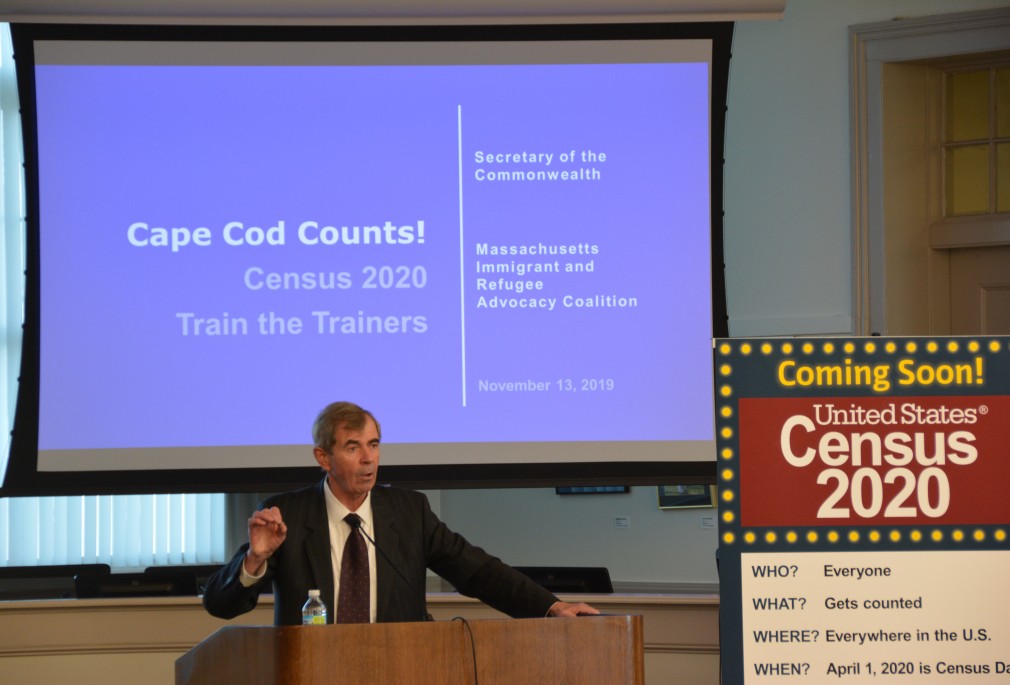 In just a few short months, the 2020 United States Census will begin. Communities across the nation are coordinating in order to ensure an accurate, complete count of our population.
Community leaders attended a workshop and strategy session at Barnstable Town Hall on November 13. Secretary of the Commonwealth William Galvin addressed the group, stressing the importance of a fair, accurate count. Galvin outlined strategies to overcome the various challenges our region faces when seeking an accurate, complete population count.
Data collected through the 2020 Census will be used to determine the distribution of more than $675 billion in federal funds every year to local, state, and tribal governments. The 2020 Census will determine funding for schools, redistricting of legislative districts, forecasting of future transportation needs, and identification of areas eligible for housing assistance and rehabilitation loans.
All responses to Census Bureau surveys and the census are confidential and protected under Title 13 of the U.S. Code. Under this law, the Census Bureau is required to keep respondent information confidential. The data collected does not include any personally identifying information and is used solely to count the population and collect demographic data.
The Cape Cod Complete Count Committee, led by Cape Cod Commission Executive Director Kristy Senatori, Barnstable County Administrator Jack Yunits, and Barnstable Town Manager Mark Ells, is working to bring together those best suited to reach Cape Cod's hard-to-count populations such as seniors and snowbirds, immigrants and those who speak English as a second language, homeless and low-income individuals, those living in group housing, renters and young adults, and people with disabilities.
The goal of the committee is to facilitate partnerships with a broad range of community leaders and influencers. Several Complete Count subcommittee meetings are scheduled in December.
Members of the public with an interest or connection to these subgroups are encouraged to attend. If you'd like to learn more or sign up for a meeting, please contact Jennifer Clinton at jclinton@capecodcommission.org.
Young Adult Subcommittee
Monday, December 2, 2019
11:00 AM
Cape Cod Commission Office
3225 Main Street, Barnstable MA
Older Adults/Snowbirds Committee
Monday, December 2, 2019
1:00 PM
Barnstable Adult Community Center
825 Falmouth Road, Hyannis
Immigrant/ESL Subcommittee
Tuesday, December 3, 2019
1:00 PM
Cape Cod Commission Office
3225 Main Street, Barnstable MA
Homeless/Low Income Subcommittee
Monday, December 9, 2019
10:00 AM
Cape Cod Commission Office
3225 Main Street, Barnstable MA
Visit the Cape Cod Commission website for further details about the 2020 Census: https://capecodcommission.org/our-work/census-2020/