Improving Cape Cod's census response rate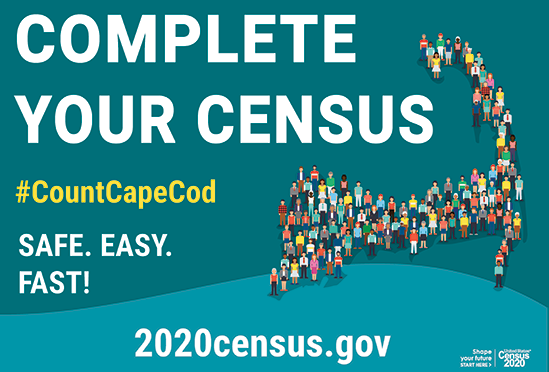 Every ten years, the United States Census Bureau counts each and every person in the country. This is an opportunity for all of us to do our part to ensure our region has access to necessary government funding and adequate political representation.
Cape Cod is lagging behind in its census response. As of July 22, 2020 only 46.7% of Cape Cod residents have responded, compared to 64.3% statewide, threatening federal funding of critical programs and resources over the next ten years.
This month, the Cape Cod Commission collaborated on a public relations campaign to help get the word out. Radio, social media, print ads and mailers will be utilized to connect with citizens across Cape Cod to ensure a complete count.
A complete and accurate count is critical to Cape Cod's economy. Data collected through the Census determines the distribution of more than $675 billion in federal funds every year to state and local governments.
This funding supports our schools and our healthcare systems, informs planning decisions, and is used to build roads and critical infrastructure, administer housing programs, and design and implement our public safety and emergency preparedness programs. Policymakers, business leaders, and educators rely on census data to make important decisions about our communities.
It has never been easier to complete your Census form. This is the first year that people can respond online (www.my2020census.gov), as well as by phone and by mail, in multiple languages. Because of the high concentrations of seasonally vacant housing and residents using post office boxes, especially on the Outer Cape, many Cape Cod households will have Census materials hand-delivered. Even if you haven't received your household ID number, you can still fill out the Census online.
We need to ensure that everyone in our community gets counted in the Census, so our programs and policies support everyone who lives here. Responding to the Census only takes about 10 minutes and is safe, secure, and confidential. The Census Bureau is required by law to protect personal information and keep it strictly confidential, and household responses are not shared with immigration or law enforcement agencies.
Cape Cod will feel the effects of our Census responses for the next ten years and beyond. This is our chance to direct billions of dollars in federal funds to our region. This is our chance to make sure we are counted in formulas for determining political representation in government. This is our chance to help businesses, community leaders, and elected officials make informed decisions.
Ten minutes today will impact our region for ten years to come. Please help shape our future and complete your census form today.