Advancing the OCEAN Corridor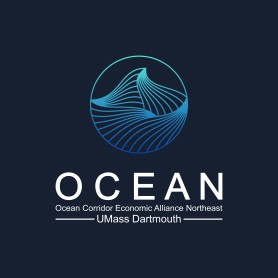 The Ocean Corridor Economic Alliance Northeast (OCEAN) creates an environment in which relevant businesses, organizations, and research and educational institutions can collaborate to advance sustainable growth and innovation in ocean-related industries along the coast of southeastern New England. OCEAN supports regional job creation in mature and emerging ocean-related industries, improves industrial competitiveness, and expands markets and export opportunities by addressing several economic development priorities for the regional blue economy, including but not limited to workforce development, research and innovation, access to capital, technical assistance, and the development of a coordinated industry cluster development strategy.
The Cape Cod Commission is committed to a three-year partnership with UMass Dartmouth and the Southeast Regional Planning and Economic Development District (SRPEDD), funded by a grant from the U.S. Economic Development Agency, to grow this marine science and technology corridor that spans I-195 from Narragansett Bay, through the urban centers of Fall River and New Bedford, and across the Cape Cod Canal.
Now in year two of the project, project partners are establishing OCEAN to identify and accelerate marine science and technology opportunities, develop a 10-year strategic plan, and launch workforce development, business incubation, and regional marketing initiatives.
The Cape Cod Commission offered technical assistance to OCEAN to develop a website for the organization. The site is designed to communicate the mission of the organization, and to bring stakeholders and collaborators together to promote sustainable growth in ocean related industries.
For more information, see the OCEAN website: https://www.oceancorridor.org/