Developing a wayfinding plan for downtown Orleans 
Better navigation for drivers, pedestrians, and bicyclists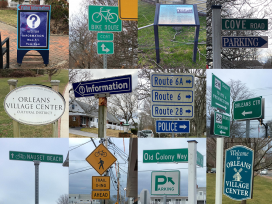 The Cape Cod Commission is working with the Orleans Planning Board to develop a wayfinding plan for key destinations in and around downtown Orleans.
Wayfinding is a system of visual cues such as signs, landscaping, pavement markings, or other objects that help people orient themselves in physical space and navigate from place to place.
The project will produce recommendations for wayfinding signage or pavement treatments, as well as possible technological options that could help facilitate improved movement for motorists, pedestrians, and bicyclists downtown while highlighting Orleans' special character and features.
A virtual kickoff meeting with the Orleans Planning Board was held on June 9, 2020. Commission staff presented a summary of the existing signage inventory conducted in the spring and discussed public and stakeholder outreach strategies for upcoming workshops.
The Commission has launched a public survey to gather input from stakeholders regarding what they would like to see in a wayfinding system for Orleans. Click here to take the survey: https://www.surveymonkey.com/r/NMWSGJ6