Cape Cod Commission welcomes third cohort of Climate Ambassadors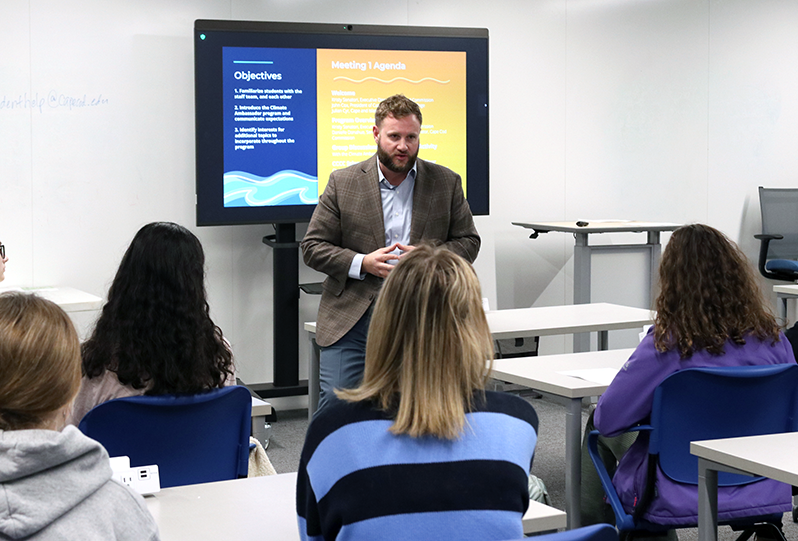 The 2023 session of the Cape Cod Climate Ambassadors began in a new way: for the first time, students met for the opening meeting in person instead of online. The previous two cohorts, held in 2021 and 2022, were conducted entirely in the virtual space. This year's session will offer a mix of virtual and in-person meetings.
On January 24, 2023, twenty-four students representing eleven Cape Cod high schools gathered at Cape Cod Community College, where College President Dr. John Cox and Cape Cod Commission Executive Director Kristy Senatori greeted them. The class took place in the new Frank and Maureen Wilkens Science and Engineering Center, the newest and most technologically advanced building on the school's West Barnstable campus. A tour of the facility allowed students to learn about many of its climate-friendly features.
Cape and Islands State Senator Julian Cyr spoke to the students, sharing his passion for civic engagement and encouraging the teens to get involved and advocate for the causes that matter to them.
The second session, held virtually on February 7, was designed to set a baseline of understanding of climate change causes and impacts and to better understand the role of climate communications. Students learned from guest speakers Greg Berman, Coastal Processes Specialist for Woods Hole Sea Grant and the Cape Cod Cooperative Extension and Heather Goldstone, Chief Communications Officer, Woodwell Climate Research Center.
The Climate Ambassador Program is an initiative to educate, engage and empower young people on Cape Cod to work together to combat climate change. Students will meet in six more sessions from now through May to learn about and discuss global, regional, and local climate causes and impacts, carbon reduction strategies, resiliency planning, and equity considerations. They will learn from climate experts and advocates, building a baseline for informed engagement and advocacy.
Learn more by visiting www.capecodcommission.org/climate-ambassadors.
Related Posts