Cape Cod Commission staff developing solar screening tool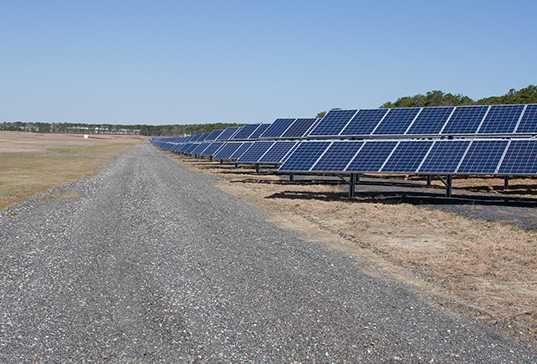 The Cape Cod Commission's 2018 Regional Policy Plan (RPP) identifies recommended actions to address major challenges facing the region, including climate change. Renewable energy can be an effective tool when working to mitigate the impacts of climate change. An effort to conduct an analysis identifying appropriate potential sites for development of utility-scale solar photovoltaic arrays is identified in the RPP as a way to address climate change response, readiness, and mitigation.
Cape Cod Commission staff are currently working to create a solar screening tool that planners, developers, utilities, and others seeking to site or review solar projects on Cape Cod can use to make an informed decision as to whether a site is appropriate for solar development.
In Fall 2019, Commission staff began work to develop a solar screening tool that features consideration of both the built and natural environments and identifies areas appropriate for solar development on Cape Cod. Staff has reviewed existing studies and reports along with state regulations, guidelines, and benchmarks for solar development.
The team has established siting criteria that notes compatible and non-compatible areas. Compatible sites include, but are not limited to, developed areas such as transfer stations, gravel pits, industrial activity centers, and large developments and parking lots. Some considerations in the non-compatible category include open space, wetlands, and wildlife habitat.
Designed for use by anyone interested in developing utility-scale solar photovoltaic arrays, this screening tool will help to guide projects toward commercially attractive areas and away from important conservation areas.
A review of the study process and draft screening tool will take place over the next few months, conducted by a committee comprised of key stakeholders including representatives from the Cape Light Compact, Cape and Vineyard Electric Cooperative, Eversource, Mass Audubon, the Massachusetts Clean Energy Center, the Massachusetts Department of Energy Resources, a local solar developer, a local town planner, and a local land trust.