Cape Cod Commission compiles climate change action timeline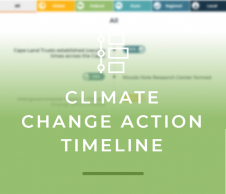 The Climate Change Action Timeline, a visual compilation of organizations, reports, and events that have helped shape and advance the recognition and understanding of the causes and effects of climate change, and actions taken to mitigate and adapt to its impacts is now available on the Cape Cod Commission's website.
The timeline serves as a way to record significant events, organizations, and actors working to address climate change, and also to make those organizations and actors known to the larger community in order to improve opportunities for learning, collaboration, and action. It is intended to be a resource for anyone interested in advancing climate adaptation or mitigation actions, including but not limited to government staff, town residents and visitors, members of non-government organizations, and civic groups.
Commission staff compiled the timeline using knowledge of local, regional, and state actions, supplemented with research and input from stakeholders at the Commission's Climate Initiative subregional meetings held in the fall of 2019. At those meetings, the Commission presented a draft timeline with actions, reports, and events. Attendees had an opportunity to review, comment on, and add to those items presented.
While not an exhaustive list of all actions at all jurisdictional levels, the timeline provides information on milestones and events that contribute to the understanding of and action towards adapting to and mitigating the effects of climate change. Examples of such milestone events include:
The creation of the United Nations Intergovernmental Panel on Climate Change and the release of the documentary An Inconvenient

Truth;

The United State

s

entering into

,

and

later

withdrawing from

,

the Paris

Accord;

Passage of the Community Preservation Act and adoption of the "Stretch Code"

by

Cape Cod

municipalities

;

Establishment of Cape

Cod

land trusts and the Cape Light Compact; and,

The formation of local energy committees and the creation of

local

Hazard Mitigation Plans.
Users have the ability to explore the timeline to see where action has taken place over the years in whole and also individually at the local, regional, state, federal, or global level.
Making progress toward reducing our greenhouse gas emissions will require broad participation and focus on actions that will be meaningful. Enhancing our ability to affect change will rely on strategic partnerships and collaborations among governments, organizations, businesses, and individuals across the region. Identifying these actors in the timeline creates a community resource that will help match actors with actions, and advance a climate action plan for the Cape.
We welcome relevant additions and corrections at climate@capecodcommission.org.
Explore the timeline: https://capecodcommission.org/our-work/climate-change-action-timeline/