Cape Cod Commission begins business recovery planning 
Supporting regional economic resiliency by providing support to local businesses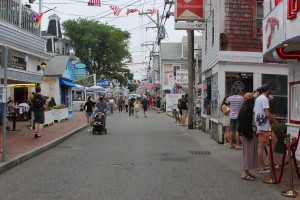 The ongoing COVID-19 pandemic has had a severe impact on Cape Cod's business community. Results from the Cape Cod Commission and Cape Cod Chamber of Commerce's first two business impact surveys indicated severe economic losses for most respondents.
In June 2020, the Cape Cod Commission received a $400,000 CARES Act Recovery Assistance Grant from the US Economic Development Administration (EDA) to support efforts to respond and recover from the devastating economic impacts caused by the pandemic and to develop strategies to improve resilience in the future. Using these grant funds, the Cape Cod Commission will work with a consultant to support business recovery planning efforts in the region.
The Commission is looking to support small businesses as they adapt to COVID-19 conditions and regulations, better understand what attributes facilitate adaptability and resiliency, and discover what businesses perceive as key barriers and challenges.
This winter, Commission staff will work with a consultant to develop and deliver virtual technical assistance workshops on business recovery and resiliency planning, with a focus on the hardest-hit employment sectors on Cape Cod. The Commission will be reaching out to individual businesses to attend, but any businesses interested in learning more about participation are encouraged to email Commission Community Development Planner Jennifer Clinton.
Industry-specific virtual toolkits will be developed that include business recovery plan templates and local, state, and federal resources that are available to aid in economic recovery.
Commission staff will conduct a third economic impact survey immediately after the holidays, to understand how businesses needs and challenges have changed following the region's 'peak season'.
The ultimate goal is to support regional economic resiliency, through individual businesses' actions and through development of a regional Economic Resilience Plan that complements the Comprehensive Economic Development Strategy. The plan will be developed through the spring, with completion anticipated in June 2021.