Cape Cod Commission assists in creating new guide to floodplain regulations and historic structures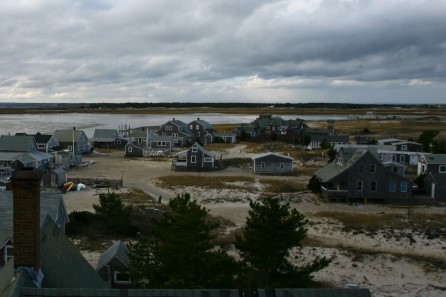 The Cape Cod Commission, Cape Cod Cooperative Extension, and Woods Hole Sea Grant have created a new guide to floodplain regulations and historic structures in Massachusetts that aims to clarify common questions and help identify when structures are eligible for exemption from the Substantial Improvement and Substantial Damage floodplain requirements.
Many questions often arise when renovating or improving a historic structure, including whether or not the structure must comply with current floodplain regulations.
Current code dictates that if a structure located in a floodplain undergoes substantial improvement or damage (worth 50% or more of the building's market value), the structure must be brought up to code. That could mean elevating the structure, installing flood vents, or other protective measures. Without being fully aware of the exceptions that exist for certain historic structures, some homeowners undergoing renovations have felt that their only option was to tear down the historic structure and build anew. This guide helps to clarify requirements.
The Massachusetts building code acknowledges that certain historic structures are significant enough that they should be given greater flexibility in meeting these regulations, making it possible to preserve historic properties while also better protecting the public from flood hazards. This new guide offers a definition of historic properties that meet the criteria for flexibility, and answers common questions, noting that Commission and Cape Cod Cooperative Extension staff are available to assist in assessing historic properties and certain physical features that may be impacted.
The Commission and Cape Cod Cooperative Extension are working with local building departments and historic commissions to find more ways to make these historic structures as safe as possible while maintaining their character, with the understanding that some of the more traditional flood protection measures may not be appropriate for all historic areas on Cape Cod.
Currently, Commission staff are working to develop design guidelines that can be used by local towns to help ensure consistency in flood hazard areas across the region. The hope is that this new guide and the forthcoming guidelines will help communities and property owners to plan for the future and to make educated decisions about what is best for their community. Cape Cod Commission assists in creating new guide to floodplain regulations and historic structures