Bourne receives EDA Grant for Water Quality Planning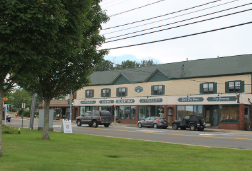 The Town of Bourne received a $2.34 million Economic Adjustment grant from the US Economic Development Administration (EDA) for the construction of a wastewater treatment plant in Buzzards Bay.
The plant will link into and extend the town's existing system, providing much-needed capacity. Downtown economic development has stalled due to lack of wastewater infrastructure to support new business growth. Buzzards Bay currently sends its wastewater to the Town of Wareham's treatment facility and has reached the 200,000 gallons per day limit.
The Town of Bourne has many partners supporting this project and economic development in Buzzards Bay. The Cape Cod Commission, as the regional planning agency and an EDA-designated Economic Development District, helped prepare the grant proposal. The Commission also will provide technical and administrative support to the town throughout the project.
"The ability to secure federal resources for projects like this, which will provide needed capacity for revitalization of Buzzards Bay, is why the Commission pursued the Economic Development District designation," Commission Executive Director Kristy Senatori said.
Buzzards Bay has long suffered from disproportionate economic distress, loss of jobs and underemployment. The new treatment plant will enable economic development in Buzzards Bay while ensuring that the environment, particularly the surrounding marine waters, are protected. New development will be based on smart growth principles, creating a compact activity center where people can live, work and play.
"A new hotel, restaurants, office space and residential housing units are under construction along Main Street, many of which would not be possible without this economic development grant," Bourne Town Administrator Tom Guerino said.
The Bourne Financial Development Corporation and Canal Area Chamber of Commerce will continue to work with the town to inform residents and potential developers about the project and its potential to strengthen and diversify the local and regional economy. The National Marine Life Center, the Tidal Energy Generation Testing Facility and Massachusetts Maritime Academy all strongly support the project.
Each recognized that without additional wastewater capacity, operations could not expand, limiting creation of a strong marine sector with competitive employment opportunities more in line with the regional cost of living.
"Finding new, advanced ways to invest in wastewater infrastructure will prove critical to our region's future," 9th District Congressman Willian Keating said. "
The new wastewater plant and the related development will allow for targeted population growth and strategic economic development. These are both essential to the region, which needs to continue to diversify its economic base and address the discrepancies between wages and the cost of living on the Cape.